North Holland Dune Reserve
In the municipality of Bergen, you can walk from the entrances at Egmond straight into the North Holland Dune Reserve!
On behalf of the province of North Holland, PWN manages more than 7300 hectares of dune area. They protect nature there while ensuring that visitors can go there for recreation.
The North Holland Dune Reserve (NHD) is one of the largest nature reserves in our country. It extends from the Tata Steel sites near Wijk aan Zee to the Schoorl Dunes. That makes it some 20 kilometers long and 2.5 kilometers wide, covering an area of 5,300 hectares.
Many plant and animal species are found in this area. This has everything to do with the vastness and varied vegetation of the area. Altitude, humidity, limestone content and past human use have also created a wide variety of species.
The area includes dunes, beach, inner dune edge forests with lots of relief and some smaller natural areas. To visit these dunes, you need a dune pass. Your contribution allows us to manage our dunes.
History
In 1903, the province of North Holland purchased the Bakkum estate. In 1920, the Provinciaal Waterleidingbedrijf Noord-Holland (PWN) was established for drinking water extraction and distribution by the province. The sites were opened to the public. Expansion of possessions followed after 1933. PWN was going to supply almost all of North Holland with clean drinking water. Amsterdam kept its own water supply dunes. PWN was also assigned management of the dune areas.
Beginning in 1960, the importance of recreation and conservation in the dune area increased dramatically. In the second half of the 20th century, infiltration of pre-treated river water (IJsselmeer and Rhine) into the dunes was switched to restore the underground water supply and halt the deterioration of nature, due to the sharply lowered groundwater level.
Importance of the dunes
In the 21st century, the dunes are important to humans as seawalls and as areas for nature, recreation and water extraction. In order to supply sufficient drinking water without affecting nature, PWN is developing new extraction techniques in the dunes.
Area description
In the Noordhollands Duinreservaat 2009-2012 Area Plan, we established the principles for nature and recreation management. For a description of flora, fauna and cultural history for each subarea, please visit www.natuurwegwijzer.nl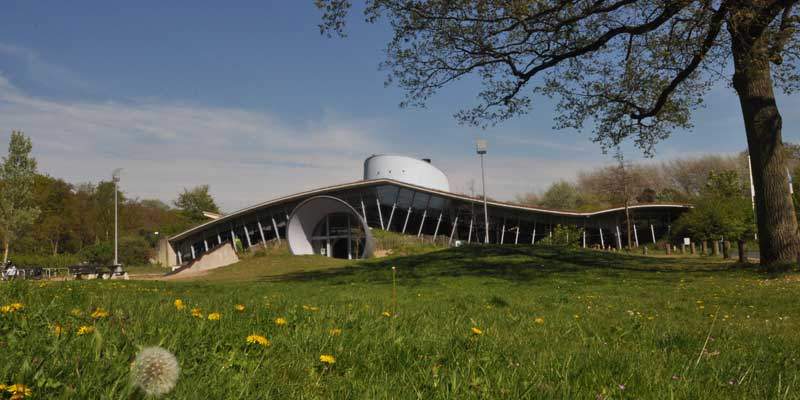 Visitor Center The Hoep
Visitor Center De Hoep in Castricum is the ideal starting point to explore the unique dune area. In a playful way, it introduces you to flora and fauna.
Johannisweg 2
1901 NX Castricum
Tel.general: 0251 661 066
Tel.bookings: 0900 796 62 88 (local rate)
See also www.pwn.nl
Tuesday through Sunday from 10:00 a.m. to 5:00 p.m.
Mondays closed (open on Mondays during the summer vacations until 22-08-2010)
We are closed on Christmas Day and New Year's Day.
Activities
PWN does not organize activities specifically for the disabled. However, we do sometimes organize activities that take into account people with disabilities, such as covered wagon rides in the dunes. One or two wheelchair spaces are available per ride.
Customized excursions, also suitable for the disabled, can be requested from our visitor centers.
Assistance Dogs
Guide and assistance dogs are welcome in all our areas. Also in the NPZK, if in function and well recognized. Registering in advance at the De Zandwaaier visitor center is appreciated.
Paths
In the dunes you will find a network of well-maintained trails. Some are accessible to people with mobility problems or who use wheelchairs. Remember that the dune is not flat and you may encounter several slopes on your round trip or hike.
All parking lots have bike lanes that are easily accessible to the disabled. The wide hiking trails in the NPZK are semi-paved (clay slips) and thus wheelchair friendly. After heavy rain, rideability is less good. Also at the Geversduin parking lot (NHD), a wheelchair-friendly circular walk begins on a path made of clay shells. The unpaved roads in the dune area are not suitable for wheelchairs or mobility scooters.
There are swing gates and spring barriers in the grazing areas, and bicycle locks have been installed on some bike paths. Design and placement have been modified to make them accessible to wheelchairs and mobility scooters in common sizes. Custom picnic bench. Photo: archive PWN
Picnic
Along hiking and biking trails you will find benches and picnic tables. Where possible, picnic tables are accessed via a shell path. They feature an extended table top to allow wheelchair and buggy seating. In the NHD, you will find custom picnic benches on Helmweg, Noorderstraat, Woudweg, Geversduin. In the NPZK, drive your wheelchair up to the picnic bench at Oosterplas.
Electrically powered
In our dune areas, we try to limit the use of gasoline-powered vehicles, such as mopeds. New waivers for such vehicles will no longer be issued. Electric bicycles or mobility scooters are allowed. This does not require a waiver.
Contact
Our accessibility policy was created together with disabled visitors to our sites and interest groups in North and South Kennemerland. For more information on accessibility, contact our visitor centers.
Also check out www.natuurzonderdrempels.nl The North Holland Dune Reserve is accessible from sunrise to sunset, on roads, trails and playgrounds.
You will need a valid admission card.
Motorized traffic is not allowed.
You can park for free in the parking lots near the entrances.
Dogs are allowed if kept on a short leash.
Cycling on unpaved trails is allowed until 10:30 a.m. unless otherwise indicated.
More on access rules.
Some sections are closed to the public, such as during the breeding season. This is indicated on signs. Access to the Bergerbos area is free. Here, the leash ban for dogs applies from March 15 to June 15.