The countdown has begun for the coldest dive of the year
The Egmond New Year dive is the coziest New Year dive in the Netherlands
Starting the new year fresh and healthy is best done in Egmond aan Zee. You can only get the now coveted "Egmond" hat once a year. Be there by pre-ordering your tickets. With this hat, everyone can see that you had the guts to dive in and have
donated to the ALS Foundation.

A true act of heroism! The Egmond warm-up is a true celebration in itself and this will stay with you for a long time. After the New Year's swim, you'll get a cup of pea soup, made fresh by one of the
many local restaurants.

New Year dive photos 2023 – Photos: Sjef Kenniphaas
The spectacle that is New Year's Day dive
How it began
The Egmond New Year dive was traditionally organized by the Derp Divers until 2005 before Entrepreneurs Association de Eendracht) took over. Also in that association, Willem Butter was the man of the first hour. "I was diving at a club in IJmuiden and read a piece in the Contact about Egmond people who were doing pool diving. I joined that and soon we established the Derp Divers.
Surely it all has to do with symbolism as well. You are diving into the new year. But it also stands for: you start the new year off right with a nice drink with friends.
Conviviality in Egmond on New Year's Day
"Actually, the fun before and after is just as important as the dive."
Crazy
What possesses someone to dive into the sea in winter temperatures? "It's disaster to do, but it also gives an incredible thrill," Butter of the Derp Divers knows. "I have dived in all conditions, with snow, at minus nine degrees and with wind force eight.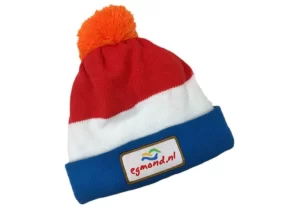 Program New Year's Dive Egmond aan Zee
Around lunchtime, starting at noon, live music begins on the beach.
The Egmond aan Zee New Year's Dive will begin at 1:30 p.m. with a warm-up and at 2 p.m. we will all dive into the New Year.
After this year's first swim in the North Sea, quickly dressed and warmed up with a bowl of pea soup made by the Egmond restaurants. Afterwards, local restaurants and retailers will be on hand to warm you up.
There is more this year!
With several
catering establishments
are currently being consulted on New Year's Eve drinks. After the New Year's dive, seek warmth with
live music
at multiple venues and perhaps try your hand at dancing. Please keep an eye on our website for the current state of affairs
New Year dive ticket
€ 7,50
FREE shipping + 1 Egmond New Year's Dive Ticket
Incl. Egmond hat, Pea Soup, Medal & € 1.00- donation to the ALS Foundation.
What you need to know about the New Year dive in Egmond
Participation is at your own risk.
Parental approval is required for children under 16.
The practical tips.
Come on time, there is plenty to do! It can be very crowded and it would be a shame if you miss the warm-up. Also check the bottom of this page for advice on how to dive safely.
Tips for a safe, warm swim
Wear (water) shoes while diving
Don't undress until the last minute so you don't catch a cold
Do not go diving with alcohol on
Give each other space and pay attention to each other
Definitely do not go deeper than knee depth
Dry off immediately after diving and dress warmly
Have a hot, non-alcoholic beverage after the dive
Where?

The dive is organized every year around the main entrance to the beach.
On your navigation, set Westeinde 1 Egmond aan Zee.
By ordering, you agree to the terms and conditions. Consult them here:
Terms and conditions on the New Year's Divegmond.com website