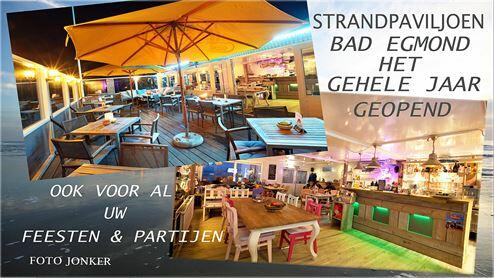 At the center of Egmond aan Zee, you come to Egmond beach pavilion Bad !
If you want to get away from your daily activities and feel like to enjoy the beach and the sea is a good choice !
Here you can completely relax on our terrace, pavilion or on the beach.
Whether you want to swim good, surfing, sports, tan or just hours into the horizon like structures, everything is possible.
The holiday feeling starts in the morning with a cup of coffee with the fishing boats in the background.
Lay your towel down on the beach, or make use of our comfortable beds and wind screens and enjoy the beautiful weather.
You can take our tasty snacks and sandwiches along the beach.
On the terrace you for lunch and a choice of delicious sandwiches, salads, cocktail bites, and hot dishes.
The drinks are cold and our welcoming and enthusiastic staff is to give you a great day!