IN HOSTEL STAYOKAY
It is immediately apparent, from the inside and the outside: dit hostel is megamodern. A popular location for families, groups and companies: everyone is welcome. The relaxed atmosphere, The cozy bar, sun terraces and many opportunities for children- and sports. Breakfast, Lunch and dinner are tasty and sensible.
Talked about responsible: we are even experimenting with vegan alternatives and we serve organic and local products.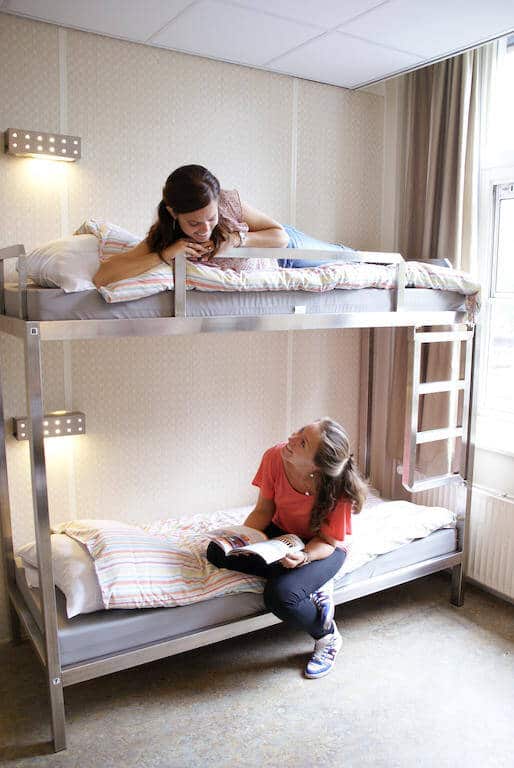 Stayokay Egmond is an environmentally friendly hostel near the dunes of Egmond. It is 3 km from the beach and surrounded by the local bulb fields. Free WiFi is available.
Some of Stayokay Egmond have a view of the dunes. Breakfast, Lunch and dinner are served in the trendy dining room with patio doors opening onto the garden.
Stayokay Egmond offers a terrace and a playground. It also has environmentally friendly features, such as a water-saving installation and energy-efficient heating. Additional facilities include board games and books. The property offers lunches to order in advance and a surcharge.
In 12 minute drive from Stayokay Egmond to the famous cheese market in Alkmaar. Located on Amsterdam 45 minutes.
Social and sustainable
Did you celebrate the holidays and sustainability go together well? We know all about! Since 1929 we stand with them and we go to bed.
sustainable hints
At our home sustainable hints are everywhere that contribute to a better planet and a relaxed stay. And that feels good! An organic breakfast to recycled workwear for all employees. And of course we will motivate you to heading to discover culture and nature. Because that's sustainable.
TAP WATER
Love H₂O
Tap water we find superlekker and mega important! We like to use it as well and are going to consciously. No and, shower is lovely, but 5 minutes under the sprinkler is really long enough. This will save all together a lot (warm) water.
(H)FAIR FOOD & DRINK
tasty breakfast, lunch or dinner!
After a day heading you can enjoy delicious sustainable meals are prepared with care. You can enjoy a buffet breakfast, lunch buffet or lunch or a delicious 3-course dinner buffet with a wide range of organic products!
We naturally keep either food waste. discard food? I do not think so.
The Too Good To Go app can save everyone meals remaining at our hostels.