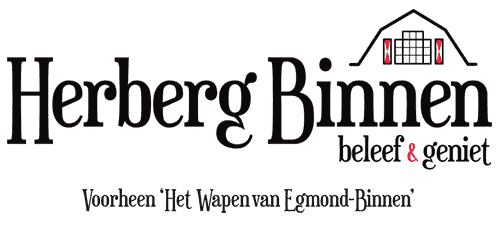 Het ontstaan
Herberg Binnen is een oud familiebedrijf, waar de familie Haagen sinds 1 July 2000 hun gasten verwennen op service en kwaliteit.
Een historisch pand waar vroeger de tuinders op het stoepje zaten en een biertje dronken, while the village stories were circulating. Die tijdsgeest is blijven hangen, gecombineerd met moderne comfort, is Het Wapen van Egmond-Binnen een rustpunt voor iedereen.
Een dorp waar de sfeer van vroegere dagen nog niet is vervlogen.
De kleine oude huisjes, de statige bomen aan weerszijde werpen een diffuus licht over de Abdijlaan. De hervormde kerk aan het einde van deze laan ademt een mystieke sfeer. Even stil zijn en tot jezelf komen. Of je nu koest voor polder, forest, duinen of de zee, alles ligt binnen een bereik van enkele minuten.
Uit, en toch een beetje thuis!
In Herberg Binnen kunnen diverse festiviteiten plaats vinden in zalen van 30 – 200 people. Herberg Binnen laat haar gasten kiezen. Niet alleen op culinair gebied, maar ook ten aanzien van de zaalruimte en activiteiten. Al onze zalen zijn voorzien van airconditioning, rain or shine, wij zorgen voor een aangename temperatuur.
De verschillende zalen lenen zich perfect voor zowel kleine als grote gezelschappen en bieden een ideale ambiance.
Wij hebben arrangementen met een heel redelijke prijsstelling.
Restaurant
Herberg Binnen kunt u lekker en gezellig eten in een dorps aangekleed restaurant, waar je kunt genieten van een Frans-Nederlandse keuken waarbij chef-kok Robert Haagen voor u smakelijke gerechten bereid. Je hebt keuze uit de diverse voorgerechten, soups and meats- and seafood.
Grote gezelschappen
Uiteraard is het ook mogelijk in ons restaurant te dineren met gezelschappen van 8 of meer personen. Graag hiervoor wel van tevoren contact opnemen om te reserveren, zodat wij met je in overleg bijvoorbeeld een speciaal menu kunnen samenstellen.
Kijk verder en verras uzelf….. zit het geen wat u zoekt er niet bij, maak dan even een afspraak om te bespreken naar de verdere mogelijkheden.
Met vriendelijke groeten,
Robert & Ellen
Ambience:
Old-fashioned fun
Terrace :
And
Name :
The weapon of Egmond-Inside
Address :
Herenweg 59
Place :
Egmond aan Zee
Phone. :
072-5061601
Website:
www.hetwapenvanegmond-binnen.nl
Social network:
https://

www.facebook.com/herbergbinnen/

Email:

[email protected]

Visiting hours :
7 days a week from 12.00 hour (Mondays from 15.00 hour) to 02.00 hour