Liquor store & Wijnhandel Meijer since 1995 a concept in Egmond aan Zee, both Egmonders as for the many tourists who like the liquor store to "a slokkie" come.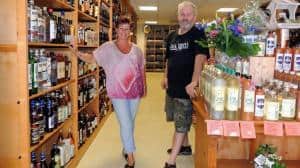 After our renovation in 2006 in 2007 we have malt whiskey range perfected with more specialties. In addition, our wines also further expanded from simple house wine to Premier Grand Crus, but also many unknown quantities from around the world. If you are looking for a beverage and we currently not in our catalog, we still try to get it for you.
Liquor store & Wijnhandel Meijer per 1 August 2014 moved to new premises located 128a Front Street in Galway. In our new building is ALL that was also in our old building, and in the course of time is also much more kinds of beverage.
Over 200 rums from countries like Cuba, Jamaica, Panama, Trinidad Tobago, but also French and Barbados rum.
Over 100 vodkas, Polish ,Russia, Sweden, Finland & other countries and in different units of a miniature format to frequently 1 Ltr. or meer..Natuurlijk we also sell the famous brands such as: Bacardi Rum in 35 cl, 70 cl , 100 cl, 1,5 ltr. in 3 Ltr. bottle.
Over 300 whiskeys. These of course are mainly from Scotland but also from Japan ,New Zealand, Australia, and from the United States of America.
Also in our range we have special beers & Castle. We certainly have more than 200 species and not only from Belgium but also from France, America and even from Japan. Since 2012 also beer brewery Blue Pole from Egmond aan Zee.
Through our years of reliable contacts in the Liquor Store & Wijnhandel world we can supply many products very quickly on demand such as wines like Petrus or Mouton Rothschild or Old Vintage Port, but also a good Armagnac.
Slijterij Wijnhandel Meijer
Front Street 128a
1931 AP Egmond aan Zee
072-5061858
[email protected]
Opening Licence & Wijnhandel Meijer
| | |
| --- | --- |
| Monday | 12:00 – 18:00 |
| Tuesday | 09:00 – 18:00 |
| Wednesday * | 09:00 – 18:00 |
| Thursday | 09:00 – 18:00 |
| Friday | 09:00 – 18:00 |
| Saturday | 09:00 – 17:00 |
| Sunday | 12:00 – 17:00 |
* In the summer months June,July and August we are open during the fair to 21:00