Commissioned by managing the province of North Holland PWN over 7300 acres of dunes. They protect the natural landscape and at the same time ensure that visitors can go there for recreation.
North Holland Dune Reserve
The North Holland Dune Reserve (NHD) is one of the largest natural areas in our country. It stretches from the Tata Steel areas in Wijk aan Zee to the Schoorl Dunes. Thus it is such 20 Just kilometer en 2,5 km breed, with an area of 5300 hectare.
In this area there are many plant- and animal species. This has everything to do with the vastness and varied vegetation of the area. The extent, humidity, lime content and human use in the past have led to a variety of species.
The area includes dunes, beach, the forested with much relief and some smaller nature reserves. To visit these dunes, you need a dune card. Your contribution can we manage our dunes.
History
In 1903 the province of North Holland Bakkum estate sold to. In 1920 Provincial Water Supply Company North Holland was (OWN) set for drinking water and distribution by province. The grounds were opened to the public. On 1933 followed by expansion of the possessions. PWN nearly all of North Holland with clean drinking water. Amsterdam kept private waterleidingduinen. PWN also was assigned the management of the dune fields.
From 1960 increased the importance of recreation and nature in the dunes sharply. In the second half of the 20th century has passed to infiltration of purified river water (IJsselmeer and Rhine) in the dunes, to bring the underground water supply back to normal and the degradation of nature, as a result of the strong decline groundwater, to halt.
Importance of the dunes
In the 21st century the dune is important for humans as seawalls and as an area for nature, recreation and water extraction. In order to provide sufficient drinking water without affecting the nature, PWN develops new wintechnieken in the dunes.
Area Description
In the area plan Noordhollands Duinreservaat 2009-2012 we have principles for nature- and recorded recreation management. For a description of flora, fauna and cultural history per sub-area can be found at www.natuurwegwijzer.nl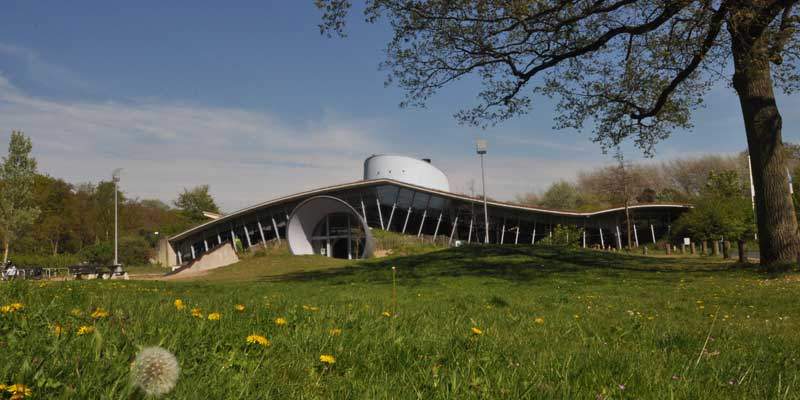 The visitor center Redheaded
The visitor center Hoep Castricum is the ideal starting point to discover the unique dunes. In a playful way you acquainted with the flora and fauna.
Johannisweg 2
1901 NX
Phone general: 0251 661 066
Phone bookings: 0900 796 62 88 (local rate)
See also www.pwn.nl
Tuesday / Sunday from 10:00 to 17:00 hour
Closed on Monday (in the summer t / m 22-08-2010 open on Mondays)
We are closed Christmas Day and New Year's Day.
Activities
PWN not organize special activities for disabled. We sometimes organize activities that we consider people with disabilities, as riding in the dunes. Per ride there one or two wheelchair spaces available.
Tailor-made tours, also suitable for the disabled, You can apply at our visitor centers.
Guide dogs
Guidance- and assistance dogs are welcome in all our areas. Also in the NPZK, provided that in function and recognizable. Advance registration is appreciated at the visitor's Zandwaaier.
Paths
In the dunes you will find a network of well-maintained trails. Some are accessible to people who have difficulty walking or using a wheelchair. Remember that the dune is not flat and that you may encounter several slopes on your tour or walk.
In all parking spaces are bike paths that are easily accessible for the disabled. The wide walkways in the NPZK his half hardened (clay shells) WHEELCHAIR ACCESS. After heavy rain the rideability is less. Also in the parking Geversduin (NHD) begins a wheelchair walk on a path of clay shells. The dirt roads in the dunes are not suitable for wheelchair or scooter.
The grazing areas are swing gates and cattle grids, and bike locks are applied to some paths. Design and placement have been adapted to make them accessible for wheelchairs and scooters in common sizes. Custom picnic bench. Photo: PWN archive
Picnic
Along hiking- and cycling trails and picnic benches. Where possible the sidewalk through a shell accessible. They feature an extended tabletop so that wheelchairs and buggies can join. The NHD will find custom picnic benches on the Helmweg, Noorderstraat, Woudweg, Geversduin. In NPZK driving your wheelchair to the picnic bench Oosterplas.
Electrically driven
In our dune we try to use petrol-powered vehicles, like mustache- or moped, limit. New exemptions for such vehicles are out. Electric powered bicycles or scooters are allowed. Requires no waiver required.
Contact
Our accessibility policy has been developed together with disabled visitors to our sites and interest groups in Noord- and South-Kennemerland. For more information about accessibility, please contact our Visitor Centers.
Also take a look at www.natuurzonderspreis.nl The Noordhollands Dune Reserve is accessible from sunrise to sunset, on roads, paths and playgrounds.
You need a valid access card.
Motorized traffic is not allowed.
The parking lots at the entrances free parking.
Dogs are allowed, short leash.
Cycling on dirt roads is authorized to 10.30 hour, unless otherwise stated.
About access rules.
Some areas are closed to public, For example, during the breeding. This is signposted. The area is accessible free Bergerbos. Here the aanlijngebod true for dogs 15 March to 15 June.