Sociability and music on the Pump Square
In the summer months there Sunday the "Walk to pump festival". Different bands, singers make their appearance at the Pump Square and in the cafes of Egmond aan Zee where you as a spectator while enjoying a snack or drink to enjoy the surrounding bars and restaurants of.

Rock,pop, blues, Mediterranean, Dutch, corps, choirs and whatnot!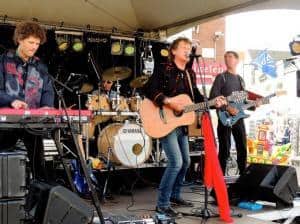 The festival is again in the Pump Square in Egmond aan Zee and our motto :
Egmond aan Zee, the sun always shines helps certainly doing its part.
We begin the festivities around April. Then passes through the village a dixieland band The Upmates. and you swinging back to it. Then at the Pump Square enjoy our own choir from the Egmond Skarrebekken. May sing along fun! In June of course we have the big carnival that always says goodbye with a spectacular fireworks display.
Egmond at his Beverly Hills and Egmond throw the cast off.
Of course not lack The Sting and Memphis. These are two cover bands that come back every year. And do they like. The atmosphere and the contact with their fellow villagers guarantee an evening atmosphere and rock on the square.
During these months, there is also Choir and Band Festival. Then you can enjoy again a range of different types of music performances. This event is scheduled for Friday.