Who cares to buy a nice bed, you still sleep with your eyes closed? Let's be honest, comfort and a good lying position are of course of great importance when purchasing a senior bed, yet we think that a bed should also look neat. The difference between a standard or a design bed is clearly visible, how do you recognize a bed that offers more than just beautiful design?
A design bed for seniors
If you are going to spend the night in a hotel somewhere, the bed will be the first to notice. A well-kept bed says a lot about the quality of the hotel and the service. Still, you will not be satisfied if you feel the bed spiral prick your back. An attractive design is a plus, but certainly not the main part of a good night's sleep. Yet many people at home surprisingly often opt for a beautiful design bed that lies "well enough". This is not a problem at first until you develop back pain and then it can go quickly.
There are many seniors who switch to one anyway seniorenbed don't make it because they don't want to sleep in a boring "hospital bed". You no longer feel like a resident, but more than a patient in-house. At De Suite, designer beds are made to measure that not only look attractive but also offer the quality for an excellent night's sleep. This way you benefit from the best that design and comfort have to offer. And also practical ease of use, a subject that should certainly not be underestimated.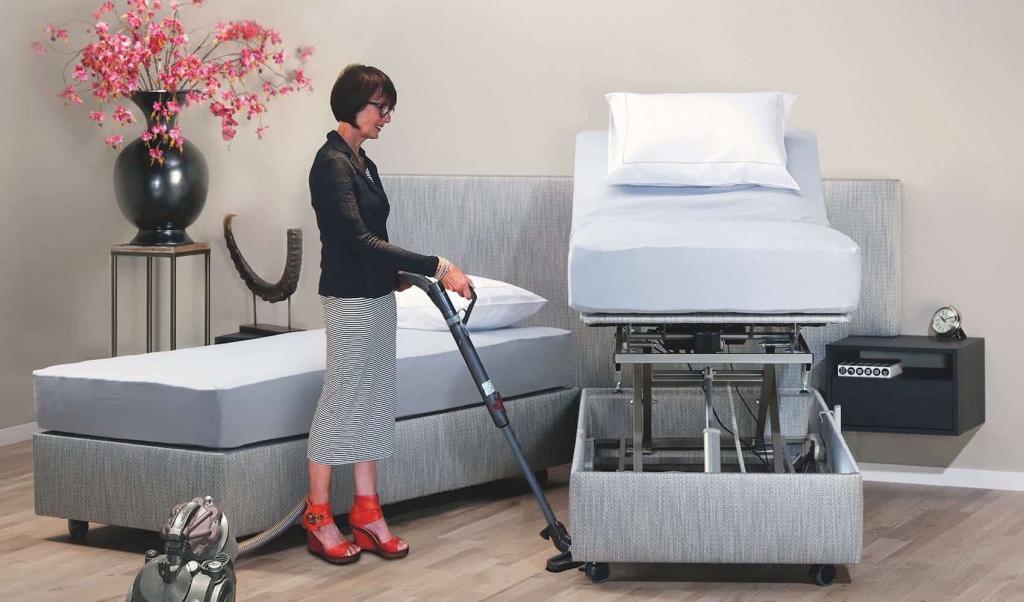 What to look for when purchasing a senior's bed?
At the moment, a high-low box-spring bed is the most popular option for seniors. The well-known box spring system has good suspension with a second mattress that provides support for the body. A luxury box spring will usually also be provided with a thinner mattress topper. It's like the fairy tale of the princess on the pea lying on a pile of mattresses!
High-low means that the bed is adjustable in height. The casing is loose on the floor, the mattress can be raised or lowered independently of the surround. This is done electrically, so you don't have to make any effort.
Many seniors choose a mattress that is too soft. They do this because there are back problems and a hard bed feels painful. That is very understandable, but it can actually make the symptoms worse. You fall away, there is too little support and the body is not in the correct position. At night you lie down in a lovely soft bed, but you wake up with pain in the muscles and joints. Make an appointment at De Suite and come for a trial, then you will automatically discover the added value of a custom bed.
Practical design
A design bed also comes with a certain luxury, purchasing with a senior's bed luxurious often also means very practical. For example, you can easily put a bed with wheels aside to clean the floor, with a height-adjustable senior bed, changing the bed linen is much easier. Smart details such as braked wheels that face inwards or moisture- and dirt-resistant materials belong to functional design. Beauty should never get in the way of comfort.
You can recognize a design bed for seniors not only by its beautiful design and a beautiful finish, but above all the comfort and eye for detail. So don't just pay attention to the picture when purchasing a senior's bed, sleep on it first!