New website mobile signal amplifiers
Since the new website today https://gsmversterkers.nl online. And we are proud we can say. After more than 150 think pm, invent, develop, testing and deals with suppliers we could media in December 2016 Slowly begin with the look and feel of the current site and its interpretation.
The website is a WordPress WooCommerce Webshop with so Boosters, Repeaters, GSM amplifiers which 2G, 3G and 4G bands or not to support Singleband 2G, Dualband 2G+3G, Triband 2G+3G alle providers of Vijfband 2G + 3G + 4G for all solutions providers. In this multi-band amplifiers are so multiple bands simultaneously strengthened so that when switching from your phone to a higher band amplifier also that signal just reinforces.
Official Dealership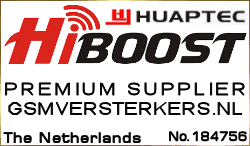 Met hiboost-gsmversterkers.nl We are now officially Premium Dealer of Hiboost Repeaters and Boosters. The boosters themselves through HiBoost Depot based in Germany directly to customers and assist with problems directly and via short lines. Previously we imported the MR Gsmversterkers mainly from China itself but sometimes gave calamities problems for us. We then had some free replacement Repeater China and replaced it without the 60 dollar shipping.
This all belongs now to the past. Huaptec Europe supplies inside 5 days and problems to exchange them directly during the 2 year warranty period. The digital amplifiers have a display that tells exactly what the received signal frequency and the band that he is improving at that time. In trouble he gives it and displays a red light on the booster..
What type of cell phone amplifier for your home or office the most suitable is the type of signal and the area in square meters of space(s) where you want to be connected to the mast.
Our mobile amplifiers are suitable for voice connections KPN and Vodafone (900Mhz) and / or voice connections from T-Mobile (1800Mhz), together with data connections on 3G (2100Mhz) or 4G transmit the data and receives 800 of 2600Mhz. Further, it is possible to connect a plurality of indoor antennas via a splitter with a single signal amplifier so that, if desired, there may be provided a plurality of floors with their own indoor antenna. We need this if your a 2 of expansion sets configured to facilitate the choice if you want it.
Why choose a Dual Band, Five band or triband mobile signal booster
For example, if your building has a bad mobile signal. And you see on your phone, for example 2G or E are may appear in another 3G or even 4G space or part of your property in your display. If you opt for a single-band amplifier which is only suitable for 2G and the band switches to 3G or 4G have thus multiple network band (Dualband, Triband Band or Five) amplifier required.
The reason is that if there is even a little 3G or 4G signal is present, is using a 2G GSM amplifier mobile phone still tend to switch from 2G good signal to poor 3G or 4G signal. As a result, the bell is rung by means of a weak 3G or 4G network (with poor coverage) in place of the 2G signal with a good range.
If you have questions about which type of repeater you need or want a phone salesman talk please contact the number listed below during office hours contact. Our sellers can directly answer most questions and help you choose the right amplifier.