Honoring club record holders
Ever since it was founded in 1962 At Athletics Association Castricum, the club records are accurately kept by the club record committee. Every year, as a tribute to the new club record holders, the athletes who have established a new record are put in the spotlight. This tribute over the past 2 years (want in 2020 couldn't go on because of the Corona measures) took place on 24 June, prior to the general membership meeting of the association.
A selection of the beautiful performances: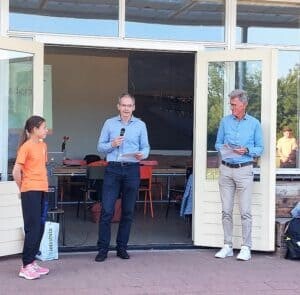 pupils
Jent de Reuver set as a mini-pupil set no fewer than three new indoor club records: 2,41m in the long jump, 80cm in the high jump and 2.51,40 on the 600m. With this last achievement he improved his own club record by more than 12 seconds! And that's really what competitive athletics is about: improve yourself!
Gabe de Groot als minipupil verbeterde hij het indoor-clubrecord kogelstoten door de 1kg zware kogel 5,38m ver te stoten. He also sprinted in the 40m to a new record time of 7,82 seconds.
Luke Feeke verbrak als C-pupil een stokoud indoor-clubrecord. In 1994 Mike van Kruchten jumped 3.12m (who later became Dutch champion in the 60m hurdles), but Luke jumped 25 years later 6 cm further: 3,18m. Super button!
Liam Verduin (B pupils) broke two indoor club records. He jumped 3.73m and ran 6,94 second on the 40m.
Noa Popot As a B-pupil on the 40 m indoor she set a super fast time of 6,67 seconds! Noa's performance was so good that it immediately meant a club record with the A-pupils.
Juniors
Sepp Schulte (D-juniors) jump indoor no less than 1.55 m high, which meant a club record with the D-juniors and the C-juniors.
From Franka Holland (C-juniors) broke the outdoor club record in the 300m to 43,68 seconds.
Timo Stegink (A-junior) ran a time of in the 1,500m indoors 4.05,91.
senior citizens
Femke Been has this year outdoor with a super time of 56,39 the 28 year-old club record in the 400m taken from Majelle Laman.