Snow White in shelter at Ecomare. © Archive photo René Pop
THE KOOG
De albinozeehond Snow White, which was received at Ecomare and released again in January with a transmitter in the Wadden Sea, the station is lost.
Completely according to plan, for the device was glued to the fur of the young animal and it was known during the shedding, sometime between May and August, would let go. In the meantime, it has collected a wealth of data for Texel researcher Sophie Brasseur from Wageningen Marine Research. The last signal dates from the end of June.
From critically ill to super fit
The young seal was found deadly ill on the Texel Waddendijk in October last year. He had a severe lungworm infection and was underweight, several cuts and it looked like he was blind. Mariëtte Smit, head of animal care at Ecomare, did not know at the time whether Snow White would make it and doubted whether he would ever be able to return to the Wadden Sea.
But Snow White quickly recovered and after a while it turned out that the albino with his bright pink eyes could see something. When he got on 15 January was released into the sea, the measurement data immediately showed that he was super fit. He immediately swam around the island, dived to a depth of 13 and a half meters and was also very active at night.
To IJmuiden
In the beginning, the seal did not have a fixed foraging area or mooring place. Initially he swam through the entire coastal zone and was regularly seen along the North Holland coast, up to IJmuiden. At the end of the broadcasting period, his swimming behavior got a clearer pattern, but it is not yet certain whether Snow White really found its place.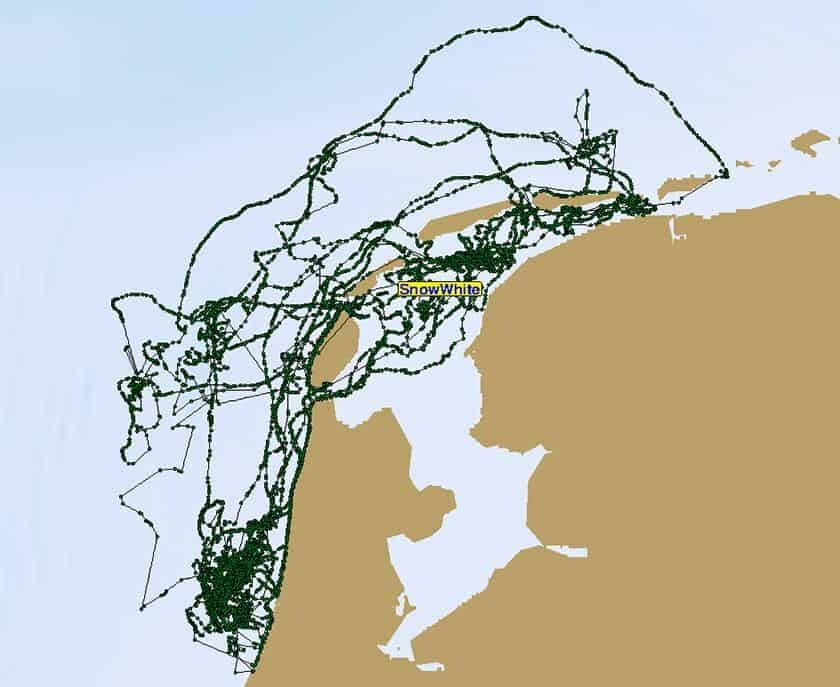 The routes Snow White took between 15 January and 29 June. © EcomareSnow White was the first seal to receive a transmitter on its return to sea. Researchers want to find out how young seals get to know their environment. Young animals from the shelter, who have little experience in the wild, can help understand how seals adapt to their environment. It is important for the shelters to know how the seals that have recovered from a lungworm infection are doing. From this they can see whether their work is worthwhile in the long run. In the case of Snow White, Ecomare can rest assured.
Who finds the channel, is requested to report this. The sender's information is on the machine.
source: NHD