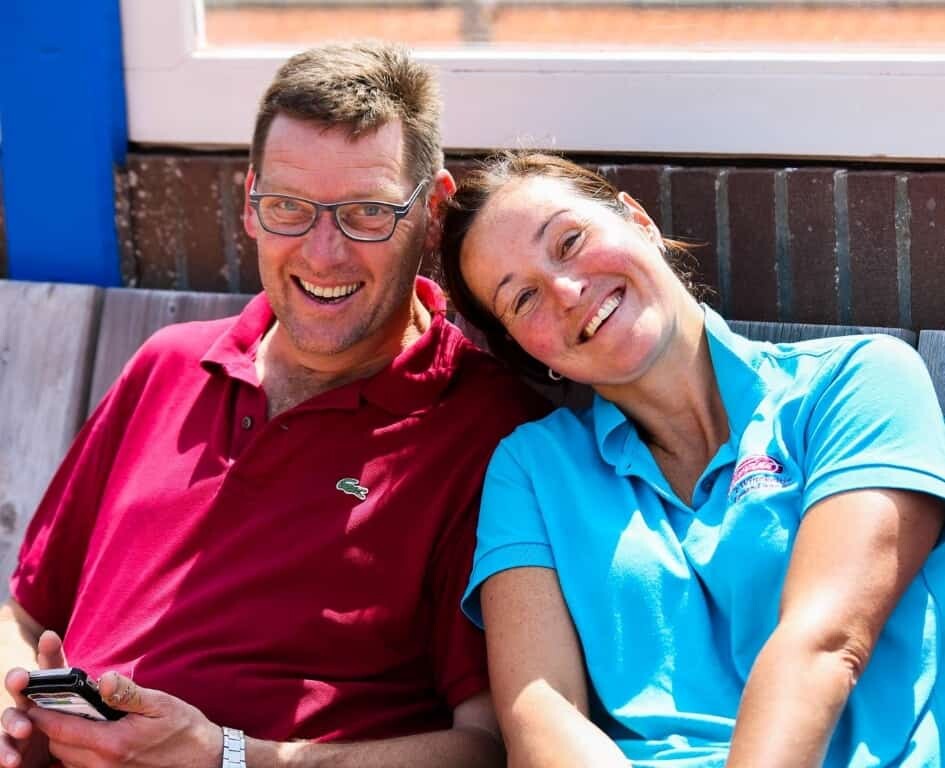 When Jorgen van Amstel was eight years old, he already knew what independent entrepreneurship was, but at the age of twelve he was sure that he wanted to become an independent entrepreneur later on. After primary school he went to HAVO, which he never finished. He became a professional soldier for a short while, but that was not for him either. He thought it was on guard, but nothing and the sporty restless Jorgen was honorably discharged from the armed forces at his own request. After this volatile period, he started working shifts at the Hoogovens, his father Dick had done that too. But in 1990 he was there simultaneously with still 1500 other employees dismissed due to reorganization. And, there you are on the street. That was the time to get his entrepreneurial diploma and it filled the time to participate in the construction of Hotel Zuiderduin as a construction worker.

In april 1991 his father asked Dick to come and help him in the shop in the Voorstraat, which was especially busy during the summer months. His father Dick van Amstel and mother Karin were in 1976 the case started. His mother had found inspiration in Paris in various delicatessens. When the oldest fisherman's house on the Voorstraat came up for sale, they saw their opportunity. Dick had a good job at the Hoogovens and took three months off to help his wife start the business. He never returned to the Hoogovens after that. In the early years it was hard work and very often struggling to get by with three growing children. The kids were expected to cooperate with packing or weighing the nuts, alternating with household tasks.
Tessa from Winschoten
Blood crept where it couldn't go and then into his beloved Tessa 1994 from Winschoten came into the picture, Jorgen was sold. Thessa, who had come for years with her parents in Egmond aan Zee on holiday in a wooden house in the dunes to celebrate their holiday there already knew Egmond like the back of her hand. She worked as a physical education teacher at a school in Schagen and so the transition to start as an entrepreneur in Egmond was very big. In 1998 they took over the business from Dick and Karin for good. The couple got married in Egmond and I was the lucky photographer who was allowed to capture their wedding photos. It was hard work day and night, but the couple would have liked to do that. In 2002 their beautiful daughter Anne was born who is now 19 years young. Four years later their son Merlin was born who is now 15 years old and can play very well at AFC'34, at least better than his father.
The three of them are the face of the matter
In 2002 Manon also came to work in the shop. The three of them are the face of the matter. Nowadays they do a lot in catering for parties and parties, they advise the catering industry on Wine and Cheese and arrange Christmas packages for many companies and private individuals. When the Corona hit, they started delivering meals at home and selling drink bags with all kinds of delicacies in them. Because the cheese and Nuts shop fell under "Grocers & Food" they could remain open in contrast to the catering and retail trade. For Bookshop Dekker & Dekker they started to sell postcards and funeral cards in stands for their shop.
The shopkeeper was very happy with this because he was only allowed to stay open to deliver parcels or to sell stamps. A very crazy government regulation by the Corona rules. For years he also arranged the Braderie in Egmond and pulled the cart, but also because of the Corona there is no longer a fair in Egmond for two years.
Fire brigade
Jorgen, who is also a member of the fire brigade, finds a nice change from busy business life. In the summer months, the Noten en Kaaswinkeltje is open seven days a week, on Wednesday evening they will be standing or his children Anne or Merlijn will also take over the business is the question but Anna is already involved in the business, just like mom and dad also started. In May it will be exactly forty-five years ago when Karin took the initiative to start a delicatessen with Dick and that Jorgen and Thessa with their children and family, by the Corona measures, to celebrate on a Wadden Island.
Text: Cor Mooij in Villagers
Check the website: http://winckeltje.nl