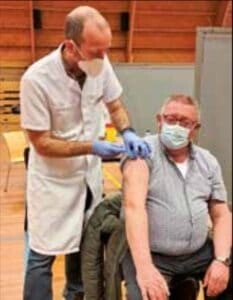 He was 14 years when he was on 1 May 1969 joined the PTT Post. Back then in the gray uniform with tie and the well-known cap. While taking the oath, Jaap always made the rounds through the Egmonds with great pleasure. An unforgettable beautiful time. But over time, the company also changed and the working area became increasingly distant from its familiar environment.
From Egmond to Castricum and from Krommenie to the factory in Amsterdam. But he always enjoyed his work there too, with the craftsmanship that was characteristic of the post at the time. He has always managed to rebuild the atmosphere with his cheerful and positive character. No, after almost 52 loyal years of service as a postman, he can finally enjoy his retirement and can proudly look back on his working life at the post office.
Today Jaap does a lot of voluntary work in the association building in the Julianastraat and for the OK church. He is also part of the Egmond waste paper team, you can see him driving in the bright yellow cart through the villages to pick up paper. In his spare time he works on the land in the dunes. On exactly this first official AOW day, Jaap gets his corona jack in Sporthal de Watertoren, which received his first patients on Saturday..
Text and photos: Cor Mooij