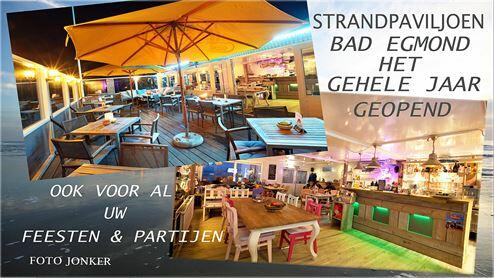 Aan het gezellige centrum van Egmond aan Zee, kom je strandpaviljoen Bad Egmond tegen !
If you want to get away from your daily activities and feel like to enjoy the beach and the sea is a good choice !
Here you can completely relax on our terrace, pavilion or on the beach.
Of je nou lekker wilt zwemmen, surfen, sports, bruin bakken of gewoon uren lang naar de horizon wilt turen, het kan allemaal.
Het vakantiegevoel begint al in de ochtend met een heerlijke kop koffie met de vissersboten op de achtergrond.
Leg je handdoek neer op het strand, of maak je gebruik van onze comfortabele bedden en windschermen en geniet van het mooie weer.
Je kunt onze lekkere snacks en broodjes mee het strand op nemen.
Op het terras kun je voor je lunch en kiezen uit verschillende overheerlijke broodjes, salads, borrelhappen, en warme gerechten.
De dranken staan koud en onze gastvrije en enthousiaste medewerkers staan om je een topdag te bezorgen!