Beach pavilion Bad Egmond
Directly at the cozy center of Egmond aan Zee
If you want to get away from your daily activities and want to enjoy the beach and the sea, Bad Egmond is the right place for you and you can completely relax on our terrace, pavilion or on the beach.
It doesn't matter ohf you want to have a nice swim, surfing, sports, brown baking
or just want to gaze at the horizon for hours, everything is possible.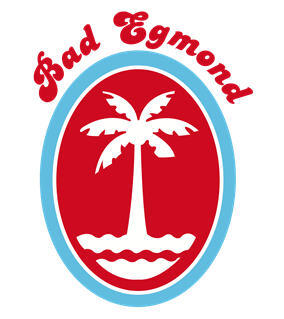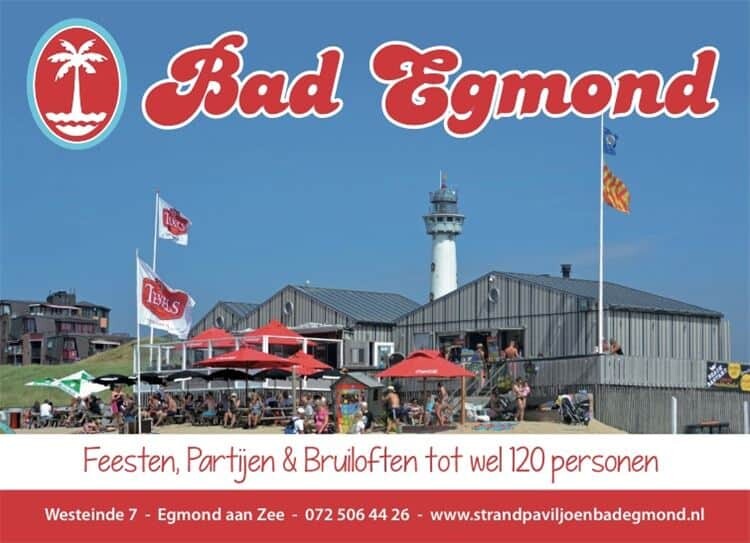 The holiday feeling
It starts in the morning with a delicious cup of coffee with the fishing boats in the background. Lay your towel on the beach or use our comfortable beds and windscreens and enjoy the beautiful weather. You can take our tasty snacks and sandwiches along the beach. On the terrace you can choose for your lunch from various delicious sandwiches, salads, Snacks, and hot dishes.
The drinks are cold and our hospitable and enthusiastic employees are ready to give you a great day!
Have you had enough of the standard "occasions' and 'halls'?
You give a really good party at Bad egmond.
See you soon!
Strand Cabine's
Bad Egmond beach pavilion features a large number of beach cabin's these are meant to store belongings, it is not permitted to stay overnight herein .
The cabin can be rented per season.
If you wish to have a cabin , you can send an email or pay a visit to our pavilion you will be put on a waiting list
You will be notified as soon as possible when we get a cabin free .

Rental point
We also have a rental point in the summer months !
Sunbed € 7,00
Chair € 5,00
Parasol € 5,00
Windshield € 5,00
Beach basket € 15,00
Our rental is open daily from 10.00 AM to 19.00 hour.
Getting married on the beach

You could only dream of it in the past,
but it is finally going to happen,
the "yes word" give on the beach.
Romantic hand in hand,
with the setting sun in the background,
with the sea rippling on the ground.
The sea reflects your love for each other.
so getting married at bad egmond is the gesture for you!!
It is possible to get married at Bad Egmond.
So come by for information to keep your best day with us.


Party or BBQ on the Beach
Do you also have enough of the standard venues and rooms !? And
and you give a really good and fun party with us
Beach pavilion.
Do you want a buffet a BBQ
or just a drink with a snack ?
All your wishes are possible with us.
The
ok we are a beautiful wedding location for an unforgettable and complete wedding.
You can surprise your guests for your party on both sun-drenched and rough days.

Beach pavilion Bad Egmond is also a unique location for a fun children's party.
inner bronze
Pots of lemonade ( 2 glasses per child )Bag of chips Cone of fries with sauce of your choice ice cream ( Rocket ) € 9,50



Children's party silver

Pots of lemonade ( 2 glasses per child ) bowl with various sweets

Pancake with syrup , powdered sugar , stoop of nutella

€ 11,50



Children's party gold

Soft drink of your choice ( 2 consumptions per child )Platter of chips and various delicacies. Plate service served with salad, fries and sauce.( Choice of ) Chicken Sate , Schnitzel , frikandels or croquettes € 20,50

Prices may differ, check the Bad Egmond website
Where to find us?
Hoofdstrandafgang right
Beach after at stake 38
Visiting hours
Visiting hours:
From April to October 7 days a week .
We are finished in the winter months:
Tuesday , Closed Wednesday and Thursday