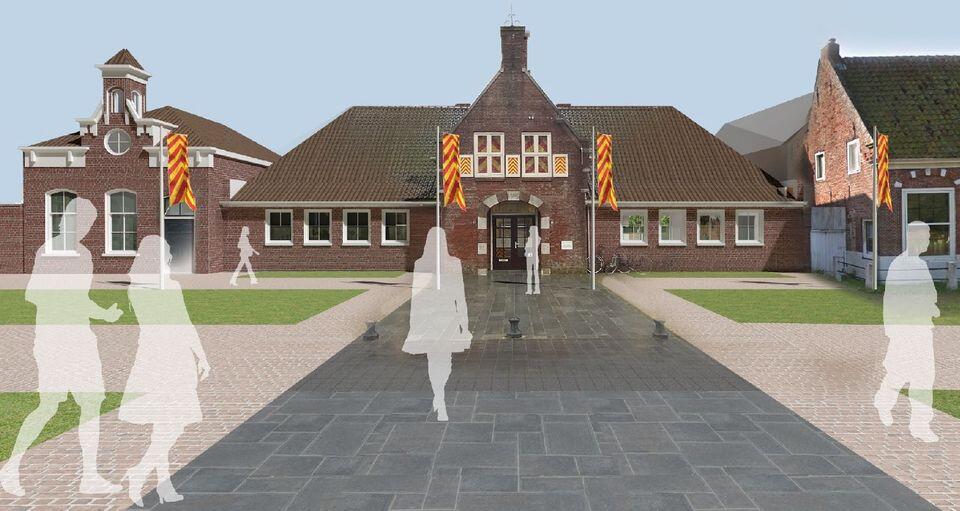 Huys Egmont | Slotweg 46-48 | 1934CN Egmond aan den Hoef | FACEBOOK
OPEN EVERY TUESDAY TILL SUNDAY (10.00 – 16.00in)
Huys Egmont is a culture house and visitor center opposite the remains of the ancestral castle of the lords of Egmond. In 2020 the former school and old town hall of the municipality of Egmond-Binnen have been completely renovated and made suitable as a multifunctional visitor center. Visit our exhibitions, read, look, research, play and enjoy our history!
Huys Egmont
is managed by volunteers from
Historical Foundation Egmond
and is almost every day 10:00you to 16:00you opened, except on Monday. Then Huys Egmont is closed.


History
Egmond has a very rich history. With the mighty Abbey in Egmond-Binnen, the medieval center of power was located here. The gentlemen (and dig later) van Egmond managed the property of the Abbey, but gained even more prestige and power. This is how the House Egmond was born, of which Lamoraal
the most famous offspring is. His dramatic death inspired Beethoven and Goethe to write masterpieces.
The castle and abbey were eventually 1573 destroyed.
In the years 30 of the last century, the remains of the old castle were excavated as part of the employment. The then built foundations are opposite the visitor center and are free to enter.

WORKING TOGETHER IN THE HISTORICAL CLOSING QUARTER
For many years now, the municipality has owned an impressive row of nationally listed buildings, opposite the remains of the Slot op den Hoef. People have been puzzling for just as long as to how these buildings can best be used and how the rich history can be brought back to life here.. For example, part of the old school has long served as a library and Stichting Historisch Egmond was allowed to use the other part of this building from 1999 put into use.
A few years ago, the city council decided to redevelop the buildings and the former users were not overlooked. The Historical Egmond Foundation came up with a plan, in which the former town hall of the municipality of Egmond-Binnen together with the old public school together form a culture house: HOUSE EGMONT. The renovation was ready at the end of May and on 2 July the culture house is officially open.
In HOUSE EGMONT different organizations work together under one roof and use each other's spaces, stuff and volunteers. There is room for history, education, culture and relaxation, making it not just for tourists, but is also an attractive place for the inhabitants. The main users of the culture house are the Historical Egmond Foundation and the Kennemerwaard Library, a completely historically justified interpretation.
The culture house also offers space to third parties to make presentations, courses or lectures and a large exhibition space will be prepared next year to show the historical story about the castle and the Lords of Egmont in a contemporary way.
Address
Huys Egmont
Slotweg 46-48
1934CN Egmond aan den Hoef
Visiting hours
Monday
CLOSED
Tuesday 10.00-16.00
Wednesday 10.00-16.00
Thursday 10.00-16.00
Friday 10.00-16.00
Saturday 10.00-16.00
Sunday 10.00-1600