Tribute to all rescuers
The Township of Egmond aan Zee is closely linked to the sea and the people who make their living at sea. A group Egmonders thought it was time to create a statue and since 1999 he stands at the main beach entrance or 'the Werf': Jacob Glass, better known as Jaepie-Jaepie, the captain of the rowing lifeboat. He is the symbol of the commitment and courage the Egmond rescuers have shown over the years.
Rower and skipper
All Egmonders that were once part of the lifeboat crew, was Jacob Glass, aka Jaepie-Jaepie, by far the best known. He lived from 1832 to 1910. Forty-four years he was a lifeguard, first as a rower (1860-1880) and later as a boatswain, as they called the skipper (1880-1904).
Knew during that period Jaepie-Jaepie, along with a dozen rowers, such 170 castaways to land. Probably have been even more, but the administration did at that time to be desired the necessary. During his lifetime Glass was awarded several times for exceptional rescue.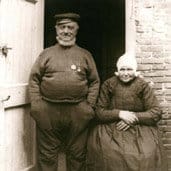 jeapie-jeapie-couple Joppie-Joppie
The book Jaepie-Jaepie of Joh.C. Kieviet, whose 1st edition was published in 1897, is about his life. One of the photos shows the boatman with his wife - how could it be otherwise – Joppie gig was called.
Image of Ad Janssen
The statue is a creation of artist Ad Janssen (1930) from Bleric, previously as a painter especially religious work made by Janssen family came into contact with Egmond and he became fascinated by the maritime world. Egmond is indebted to him, because he made the image pro bono. He made the boatswain in all its characteristics: are inseparable scheepspet, the fringe of beard, a lifejacket, the bloomers, the rope and his pipe. The bronze statue was created with the cooperation of the municipality Egmond, Royal Dutch Rescue Society and the Foundation Statue Jaepie-Jaepie. Four grandchildren Jacob Glass revealed the image 23 July 1999.

Jaepie-Jaepie genever.
This is made of a gin 6 year old maltwine 100% grain fired. The traditional and authentic firing process,wherein craftsmanship is of the utmost importance, creates a pure and gentle genever provided by this unique process is available only to a limited.
After a long period of rest and only after approval from the liquor store and master distiller is the Jaepie-Jaepie Genever bottled. The gin was invented by William Reemst, the former owner of the Liquor Store, who then called Willems Super Drink.
Location
Jaepie jaepie sits in the goings on 'de Werf'. Officially its called the "Westeinde". His face is pointed to the boathouse of the new lifeboat station of Egmond aan Zee KNRM. If the boat goes out for an action or exercise, then comes along Jaepie Jaepie.