Nudist beach
(naturist recreation) in the Egmond and Bergen North Holland
Exposed on the beach
Everyone knows a nudist beach near. Of converts, whether or not by chance, along the nude beach of Egmond aan Zee North side or at Egmond-Inside (south side). For some of you does not stop here. For them, the nude beach namely an introduction to naturism. For the first time going out clothes on a nude beach is not so difficult. Everyone is exposed, so you just fall in with your swimsuit on. There is often enough space to keep distance from your neighbors. And neighbors who are also quite recognizable.
The official nude beach located between Bergen- and School at sea.
On the beach area described here, officially a beach activities, nudism has long tolerated.
Due to its location behind the extensive nature reserve of the North Holland Dune Reserve, the secluded beach area is very suitable for nude recreation; however, it is difficult to reach by car.
Nudism is tolerated between pole 35 in 36. The area is not signposted. On the nudist beach there are no facilities.
Egmond aan Zee (North side)
This beach is not officially designated nudist. But nudism is here for years tolerated in this quiet beach between pole 35 in 36, the beginning of the nudist beach is indicated by a pink pole.
You can reach this location by from Egmond aan Zee to walk along the beach north. The beach can also be reached by bike via the North Holland Dune Reserve, for which tickets are required.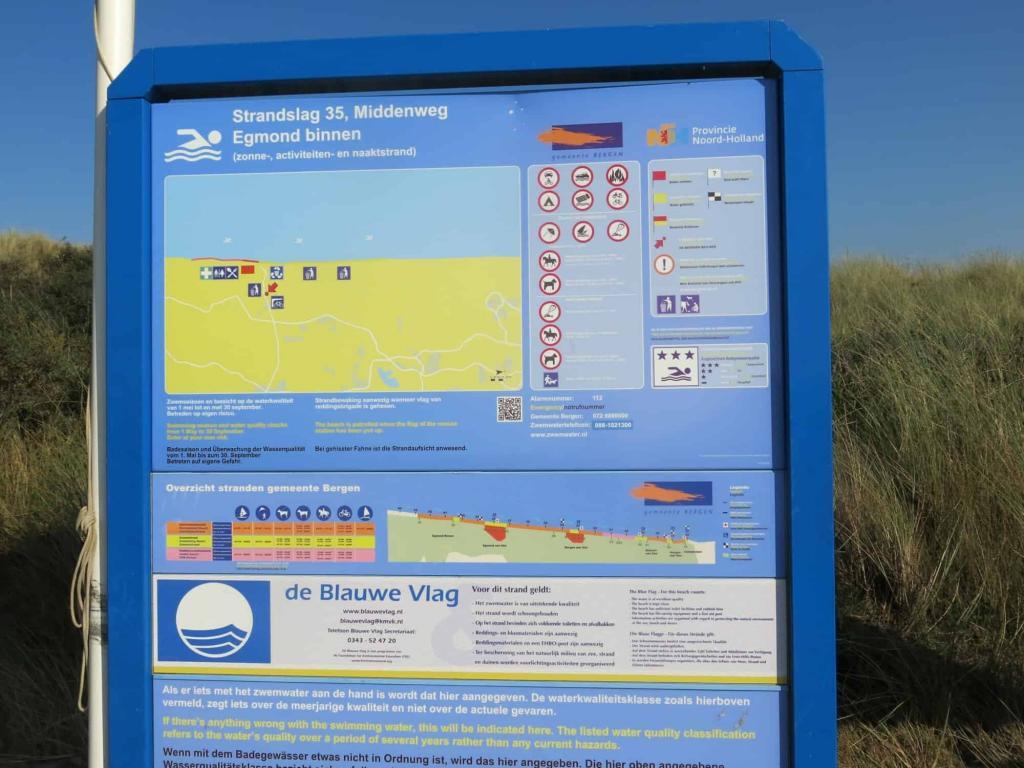 Egmond aan Zee (South side)
The second nude beach of Egmond is situated at the height of pile 40.75 in 42.65 (Dome dune) and is also called Egmond-Binnen.
Walk from Egmond aan Zee along the beach southward. You can also reach this beach by bike via the North Holland Dune Reserve. (Expect tickets)

Bergen by the Sea
On the north side of Bergen, behind the Schoorl dunes is the nudist beach. Nudist recreation is permitted between pole 32,25 in 29,50. On the beach the area is indicated by a pink color of the beach pole head. There are no signs posted. In the area between beach post 31,50 in 32,25, for 2010 official nude beach, still takes place nudist and this is precisely the busiest part of the nudist beach.
On the nude beach is at stake 32 the beach pavilion "From art". On the terrace is not allowed nudism.
There is no direct supervision on the beach, the nearest lifeguard station stands at strandslag 24.
Route to the beach
Paid parking 10.00 to 19.00 at strandslag 30, Egmond aan Zee. Please note that in zone A is a maximum parking time of 1,5 hour.
The village has about 1800 paid parking spaces that are occupied quickly with beautiful beach weather.
By bike
Also accessible by bike via the North Holland Dune Reserve. This area is not accessible, this are tickets required.
Bicycle parking at the beach battle 35 (550 meter walk) in Strandslag 36 (280 meter walk)