The Derper Vraauwtje
Why
It will be noticed that in many broadcasts and publications commemorating the centenary World War I never mentioned the many fishermen drowned in the neutral Netherlands. A forgotten group, in Egmond whopping 95 men and had children. Fortunately our village beautiful monument fishermen, where they are commemorated annually. But the women who are left in squalor are the elderly only some vague memories, For example, the many shops in the village widow.
Bronze statuette
Artist Fabio Pravisani was commissioned by the Association Dorpsbelangen Pearl Egmond aan Zee made a beautiful bronze statue of a fisherman's wife. The derper vraauwtje will symbolize the countless widows in our former fishing village. From the sidewalk in front of the Vureboetsduin, above the old Wagon Yard, one at the time had the best view. Old sailors and fishermen widows looked out over the sea that gave and took.
Location
Old sailors and fishermen widows looked out over the sea that gave and took. The place therefore for Fabio's statue. She stands there to the village and looks over her right shoulder to the sea.
On a brick pedestal of the beach found sticky notes, remnants of the old swallowed up by the sea Egmond. In a walk around the Vureboetsduin and Yard will Derper Vraauwtje than with JAEPS-JAEPS, Lighthouse j.c.j of Speijk and the lifeboat Louk van Meurs form a beautiful illustration of the maritime history of Egmond aan Zee.
I have a Facebook page dedicated to the Derper vraauwtje created where you as a visitor can place your own photographs on. Click here for the Facebook page
The unveiling
The unveiling of the Derper Vraauwtje was a great success on Friday 30 October 2015. A large group Derpers had come to witness this.
Peter de Graaf made a short film about the disclosure which can be viewed at right. Online Egmond also has a celebrity facebook page created just because you can, this is the link : Facebook Derper Vraauwtje
Jannek Rabbit unveiled, along with her son Angel, to remove the statue by the yellow-red flag Egmond and told a touching story about fishermen drowned in her family. A nice addition to the village, realized by the association Dorpsbelangen Egmond 'Pearl' The Sea.
Sculptor
Fabio started six years ago with sculpture and is a true autodidact. He has learned to develop his gift from books and watching DVDs. In the winter months, if the ice cream parlor is closed, he can perform his hobby as a sculptor. He's always been a great art lover and loves to indulge fully in the making of a picture, even though he finds himself only a beginner and not as good and experienced sculptors. He is inspired by several sculptors from different eras and countries.
Plaque with a short story about the Derper vraauwtje
Over de kunstenaar / sculptor Fabio Pravisani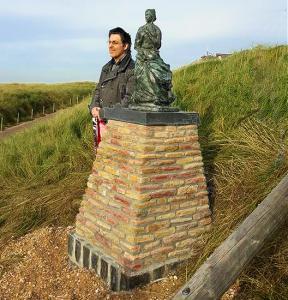 EGMOND SEA – He is born on 9 april 1971 Elizabeth hospital in Alkmaar and of Italian descent. His father Dino who 1981 is deceased, mother and sister Marisa Daniëla, all with Italian roots, best glands for over half a century Italian ice cream parlor Pravisani in Egmond aan Zee in the Front Street. Grandfather Antonio Pravisani with his sons Leo, Dino, Lio en hun zus Carla, who has worked the longest, the ice cream began in 1947.
In the winter months the family went back to Italy and in summer they were back in Egmond for their artisanal quality ice, which is famous throughout North Holland, to sell. Children told their parents: "Are we going to get an ice cream at the females?"Thus, referring to Marisa and Daniëla involved in almost every customer to know what kind of ice cream they would like to have. Fabio box 'ice maker' with a typical learned own recipe and saw his father when he was a small child. After the death of father Dino, he had to continue the ice cream shop with his mother Marisa and Carla.
Bronzesmith
Since 2008 Fabio Pravisani is a volunteer at the foundry Hooischuur in Oudorp the Herenweg opposite Kolping Boys. There he learned the whole process of casting a bronze statue. First make a mold of an image provided by the client, making a cast in was, Then the wax model is provided with venting and sprues which is encapsulated in GISP. After this laborious process, the wax out and fired the remaining cavity then filled with molten bronze. After curing, the GISP is removed and the finished image. It was in this foundry where he developed the need to also consider themselves to sculpt their own image and casting in bronze. That went so well that he has gone with it and not without result.
Composition of this article has come about through Facebook and merger of public newspaper clippings. The imagery is different Egmond photographers as Sjef Kenniphaas, Rob glas en andere. Want to be named in this article, please let us know.