Theaterwereld and Swimming Hoornsevaart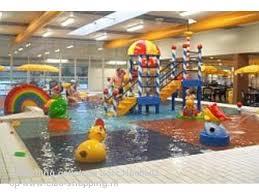 Water Playground
The water playground provides swimming fun at our youngest visitors. Between the old part and the covered 50 meter pool is a basin constructed with toys for preschoolers. pumps, fountains, a slide and various other attributes in approximately 20 centimeter water. Here you can play to your heart's content with water. Pleasant extra: the little ones get used to water!
50 meter pool
For years this bath use only in summer. And then only with good weather. There has been radically changed in. In order to increase the usability, The bath is covered with a playful design; a 'wavy' roof. Throughout the year you can swim now in the bath. Especially groups such as societies benefit from this. With the roofing, there is also in a smart way 'dividing' the ability to of the basin by means of a partition. This is sunk at the bottom and at times brought up as two different activities are held simultaneously. During the summer the pool is otherwise very accessible from the lawn. This is ensured through large glass sliding doors.
instruction pool
This shallow basin is specially designed for novice (the) swimmers. The swimming lessons will take place at regular intervals. On Sunday, the instruction pool is open all day for free swimming. At other times the pool is once again reserved for older- in kindzwemmen.
25 meter pool
This bath is used for various activities and audiences.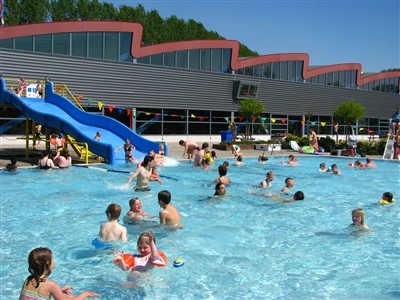 Outdoor swimming pool and sunbathing area
Anyone who thinks that the roof of the 50 meter pool there in the summer on the lawn doing nothing more is wrong. It is just simply more fun! This is partly due to the permanent bouncer, the playground and large lawn. Outdoor bathing fact remains present. This bath has a maximum depth of 1.20 meter. The outdoor swimming pool is easily accessible through the large sliding doors connecting the bathtub with the lawn.
Catering
In our restaurant you can enjoy a cup of coffee, fries, croquette e.d.
Both inside and outside catering is accessible. Moreover, to keep the fine on the spacious terrace.
Garment Accommodation
Between the old and the new part is a completely new garment accommodation realized. The existing changing facilities will remain in use. This has to do with the different streams of visitors to the different swimming activities.
Whirlpools
In these baths, you can relax in your own Jacuzzi before or after the other activities in Water World Hoornsevaart.
Sunbeds
You can relax not only in the various whirlpools. There is also a number of sunbeds available. A nice tan also gain if the winter is, or if the sun is not shining. Afterwards swim and make you feel rejuvenated.
Wave pool
You know that feeling? After a day at the beach you lie in bed and you feel that you still meedeint with the sea. That feeling you get when you even try the wave pool Hoornsevaart. Swimming against the current or diving into a meter high wave. Do you dare?
Let yourself be carried away by the waves in the wave pool. Periodically they sweep through the bath. Fun for young and old. Naturally, the slide is not lacking.
.
Address:
Pool Hoornsevaart
Duke Aalbrechtweg 4
1823 DL Alkmaar
such. 072-5489375
Opening for recreational swimming
Regular opening hours
teaching pool
25 meter pool
50 meter pool
wave pool
Water Playground
Monday
closed
closed
closed
closed
09.00 – 12.00
Tuesday
closed
17.30-19.00
07.00 – 17.30
19.00 – 21.00
09.00 – 21.00
09.00 – 21.00
Wednesday
closed
17.30 – 21.00
07.00 – 17.30
19.00 – 21.00
09.00 – 21.00
09.00 – 21.00
Thursday
closed
17.30 – 19.30
07.00 – 17.30
19.00 – 21.00
09.00 – 21.00
09.00 – 21.00
Friday
closed
09.00 – 09.45

18.00 – 21.00

07.00 – 18.00
09.00 – 21.00
09.00 – 21.00
Saturday
closed
13.00 – 17.00
09.00 – 16.30
09.00 – 17.00
09.00 – 17.00
Sunday
10.30 – 16.00
09.00 – 16.00
09.00 – 12.00
09.00 – 16.00
09.00 – 16.00
In summer it is 50 meter pool on Sunday to 16.00 hour.
Check always the Different opening hours in the news for any changes / Specials
Each Sunday is there to 12.00 hour family swimming.
That means that children under 18 year only inwards may accompanied by an adult.
Water Playground:
Every Monday, the water playground open 09.00 to 12.00 Checkout is 09.00 to 11.00 hour.
50 meter pool:
On Tuesday if 17.10 hour, Wednesday if 16.20 pm and Thursday if 17.10 hours, the retaining wall in the 50-meter pool put up. During the set up of the retaining wall may be for safety reasons no people in the 50-meter pool. (only 25 meters of jobs available)
On Wednesday between 20.00-21.00 hour there are some 50m jobs leased.
Closing cash:
The last half hour before closing time you can still buy a ticket at the box office. Other POS transactions are no longer carried out the last half hour.
It is possible that not opened due to unforeseen circumstances, one of the tanks is indicated at the time.