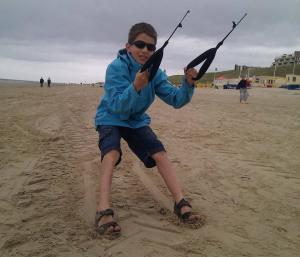 Let yourself be carried away by the elements, feel the wind, power, the speed and let go ... that's just power kiting! Kiting for big people say, with kites of such 1,5 m2 to be more than 10 m2! On this day we will teach you the basics of power kiting. We start with the theory, the history and course of the safety. Then go try the course itself! power kiting forms the basis for other spectator sports like kite surfing, buggyen, flyboarden, snowkiten in kitejumpen.
Anyone can power kiting, even if you are not blonde beefcake or tight beachbabe! The only thing you must have is a sense of the wind, wind direction, the strength and the response of the kite. Immerse yourself, literally and figuratively! Try not to go to the fight, that you do not win!
Surrender to the power of the elements and experience the ultimate experience ....
Possible Location: Bergen, Egmond aan Zee, Schoorl, bakkum, Castricum, IJmuiden & Wijk aan Zee
age: from 14 year
Number: from 4 people
For large groups, we apply different prices, Please contact us for a quotation
Are you after class so excited!, You can aanschaven your power kite with us for a discounted price.