Own horse
Would you go with your own horse in and around Egmont? Nearby are several parking facilities. There are also several riding schools in the area that rent horses. In the riding schools horses are ready for you a couple of days to go in nature. You come through woods, dunes and along the beach. Every day is made a guided ride outside. A ride in daytime is nicely relaxing, but there are also exciting evening- or even organized night rides.
Dune rides

Manege de Hoef is the Kennemerduinen. That is a multifaceted nature that extends north to Hondsbossche seawall at Hargen sea and in the south to the North Sea at Wijk aan Zee. On the west side go into the dunes on the ocean and to the east lie between the dunes and the civilized world the flower fields, where the Netherlands is famous for. There are special bridle and you can enjoy horse riding there. It is quite possible that during your ride raptors, pheasants, rabbits, hazen, squirrels or perhaps a fox or a weasel will encounter.
Manege de Hoef organizes weekends and holidays many dune rides.
The dune rides are always accompanied by one of our experienced staff who know very well the dunes. Participation is only for experienced riders. For a safe and enjoyable ride, it is important that the participants driving control in trot and canter.
There are different types of dune rides. The most common are the dune rides two or three hours. In addition, longer trips are organized with intermediate pauses are inserted so that the horses and riders the opportunity to eat and drink. The group may be small or large. This depends on the number of inschrijvingen.Het is also possible to make a dune ride with a closed group of. You can then decide who goes with it. The group must consist of at least six people who are all experienced enough
For a ride outside you have to register in advance to be sure of a place.
Call during business hours for more information on dates or to make an appointment: 072-506 5840
Special duinritten
Riding on the Hoof be arranged special dune rides organized.
Seasonal Dune Rides
The seasonal journeys of Manege de Hoef include:
Day trips: dune rides of about nine hours (through Heemskerk) or about seven hours (via Schoorl) which made several stops and horse and rider are providing food and drink plenty.
pancake ride: Two-hour dune ride and afterwards eat pancakes in the cafeteria.
Kale ride: Two-hour dune ride and afterwards unlimited kale with sausage eating in the canteen.
Snertrit: Two-hour dune ride and after pea unlimited food in the canteen.
Barbecue: Two-hour dune ride and afterwards enjoy a barbecue at the stables
Fondue / gourmetrit: Two-hour dune ride and after delicious fondue in the canteen.
Luilakrit: Get up early, if 5.00 am sitting on your horse, a dune ride of two hours and afterwards enjoy a well deserved breakfast in the cafeteria.
Dauwtraprit: Get up early, if 6.00 am sitting on your horse, a dune ride of two hours and afterwards enjoy a well deserved breakfast in the cafeteria.
Oliebollen ride: On 31 December, the year with a dune ride of two hours and then unlimited donuts eat in the canteen.
New Year's Ride: New Year usher in a dune ride of three hours after a lovely lunch in the canteen.
More information about the dates of these you can get by calling our phone number: 072–506 5840
Contact:
Riding school de Hoef
Herenweg 130
Egmond aan den Hoef
Email: [email protected]
Phone: 072 506 5840
Website :http://www.manegedehoef.nl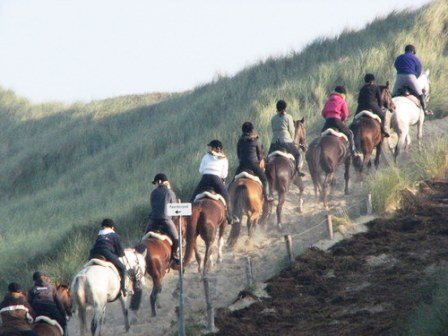 Pony Camp
The pony camps every year a big party. The program is packed with activities and a lot of rest you do not get. Or overeating, cosiness and a lot riding!!!
The pony camp week consists of five day programs, of about 9.00 o'clock in the morning until about 20.30 pm. So you're not sleeping at the stables. Make sure you have a good night's sleep because you bet that you are tired after such ponykampdag! The week runs from Monday / Friday.
The program is packed with horse activities. You have the whole week a horse or pony!, that you select at registration for the camp, so be on a special horse in time have in mind! When you wake up at the stables will go first put your horse outside in the sunshine and good care, brushing and having crabs. If your horse is nice and brushed his hooves are gonna saddle clean. And then the morning program always begins with riding, a nice dune ride, a carrouselles, games or a polderrit.
After a nice lunch (where you can eat quite full as long as you only can ride your horse) begins the afternoon, a dune- or polderrit, springles, quest or horse dressage but also other activities such as swimming. When you have eaten their fill at the dinner starts the evening with some weather riding but also a dart evening, karaoke, and finally on Friday the cinema.
Beach Ride
From October to April we organize every Sunday morning a beach ride.
This is a ride for advanced riders who carries on a stretch of beach between Castricum and Egmond Within. Through the dunes of Egmond and surroundings you drive to the beach where you will have a fantastic experience. At the sign of the very experienced coach all in their fastest gallop horses will make a section of the beach. Click on the image for a video of a beach ride!
It is therefore of the utmost importance that the rider can keep the well under control horse.
For this, it is therefore necessary that we should know whether the rider is suitable for such use on the beach.
If you want to arrange a beach ride and you are still not known to us, then it is wise to make another trip to us, so that we can judge whether you are able to ride a beach ride.
The beach rides are very popular and so quickly booked. So be quick to!