Curling at the Schoorlse Klootschieters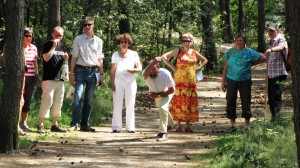 UNDER curling MEANS:
Throwing a wooden ball (THE KLOOT) on a set route, with the aim to do this in the least possible throws. The globe is a wooden ball at the correct weight by means of cast lead. The trail is located in the Schoorl dunes and consists verharde-, sand- in schelpwegen.
The duration of the curling is about 2½ hours. The number of people is minimal 10 and a maximum of 150 per group. The curling is professionally managed.
Maxim:
"A globe soo uytter handt or uytter vuyst geschooten, 'T buert selden dusty sal sich hier or daer aen thrusts, 'T grants more or less or completely syn rush voortgank Stuyt, Oock so no plain baen or runs tenlesten uyt ...'
RULES:
There are three teams played against each other. One is to throw then leave the next three teams (about three minutes apart). Each team has its own color curling, nl. red, yellow or blue. A team usually consists of five people.
The team leader (Kloothoofd) red team starts and throws the Globe at arm along the body as far ahead. After that, the team leader of team throws yellow and then the team leader of the blue team. The Motherfuckers who is the least far during the first roll, must first be thrown again. This is repeated throughout the course.
By three teams going while curling a stroller along, equipped with 4 kinds of soft drinks, alcoholarm beer, cheese, pinda's en chips.
Afterwards there will be an awards ceremony (First prize for the winning team and a booby prize for losers team). Each participant will receive after a curling shoot with certificate. Children t / m 5 years may join free.
Curling can be experienced in all seasons of Monday / Saturday. Showtimes in consultation with the organization. Op zone- and holidays, the 'KLOOT' not shot.
WHEELCHAIR FRIENDLY
Our trail in the Schoorl dunes is generally about shell paths and with some help from other team members wheelchair accessible. If you want to bring people in the team who have difficulty walking, we have wheelchairs available to you.
Address:
Captain Jan
Bremakker 2 1873 GJ Greeting
072-5095919
06-13974097
[email protected]
website: http://www.schoorlseklootschieters.nl